Jump to recipe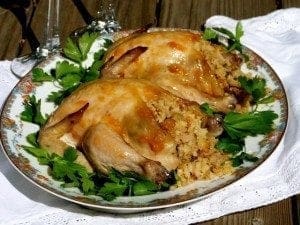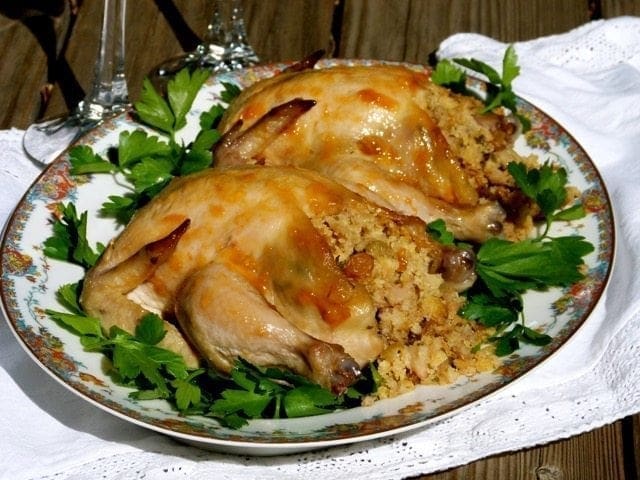 Servings: 8
Making a lovely dinner for two is easy, and the stuffing is exquisite with apples and brandy soaked golden raisins.

Prep Time
2 hours, 30 minutes
Total Time
2 hours, 30 minutes
Ingredients
¼ cup (38 g) golden raisins
1 tablespoon (15 ml) brandy
2 Rock Cornish hens, thawed if frozen
1 small lemon
⅛ teaspoon (0.6 g) onion powder
½ cup (115 g) diced tart apple, unpeeled
1 tablespoon (14 g) fresh, minced Italian parsley
1 teaspoon (5 g) fresh minced thyme or ⅓ teaspoon (1.6 g) dried, crushed thyme
salt and freshly ground white pepper to taste
1 teaspoon (5 g) butter, melted
1 cup (225 g) cornbread crumbs
2 tablespoons (28 g) apricot jam
Instructions
Soak raisins in brandy in a separate cup for 1 hour.
Preheat Sunflair® Solar Oven. Set up oven outside with cooking chamber facing the sun.
Rinse hens inside and out with water. Pat dry.
In a bowl, grate ½ teaspoon rind from lemon and set aside. Cut lemon into a couple of wedges and rub the insides and outsides of hens with cut side of the wedges. After, discard lemon halves.
In the reserved lemon rind bowl, combine onion powder, apple, parsley, cornbread crumbs, thyme, soaked raisins, and any brandy left in the cup. Stir. Add onions and butter remaining in the skillet. Stir well. Season with salt and white pepper.
Divide stuffing between the two cornish hens. Spread apricot jam on the top outside of the hens. Place the hens in the roaster, cover with lid, place inside the Solar Oven.
Cook for 2½ hours.
© 2023 Copyright: Sunflair® Solar Ovens