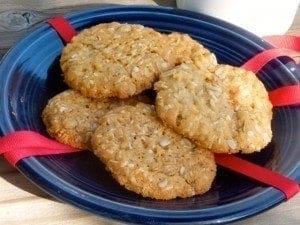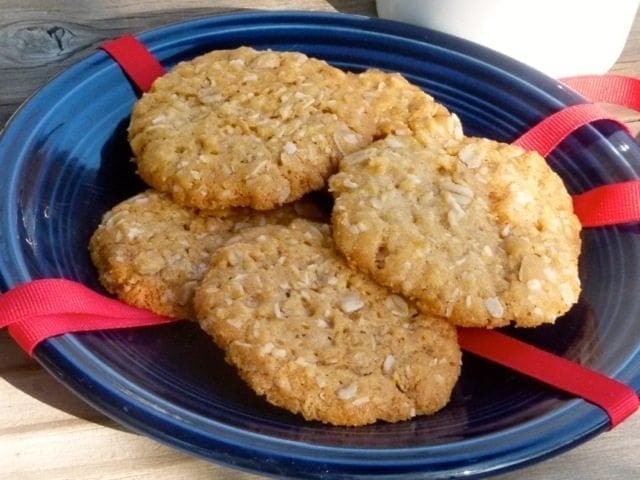 Also known as the tile or wafer.
The popular Anzac biscuit is a traditional, eggless sweet biscuit. The following is an original recipe provided by Bob Lawson, an Anzac present at the Gallipoli landing.
Anzac recipes cook nicely in the Sunflair Solar Cooker Oven.
Notes
Note: Steam prevents UV rays from entering the cooking chamber. When baking without a lid, sometimes the inside cover may steam up. If this happens, open just enough to slide hand inside with a soft cloth and wipe clean. And/or unzip the zipper a little to release steam, like a tea kettle.
Source: From Robin McLachlan, Anthea Bundock & Marie Wood, Discovering Gallipoli: research guide (Bathurst, NSW: Times Past Productions for the Australian War Memorial, 1990)

Ingredients
1 cup each of plain flour, sugar, rolled oats, and coconut 4 oz (125g) butter
1 tbls treacle (golden syrup)
2 tbls boiling water
1 tsp bicarbonate soda (add a little more water if mixture is too dry)
Instructions
Grease biscuit tray and pre-heat oven to 180°C.
Combine dry ingredients.
Melt together butter and golden syrup. Combine water and bicarbonate soda,
and add to butter mixture.
Mix butter mixture and dry ingredients.
Drop teaspoons of mixture onto tray, allowing room for spreading.
Bake until golden. Approx. 45-60 min. Allow to cool on tray for a few minutes
before transferring to cooling racks.
© 2021 Copyright: Sunflair® Solar Ovens