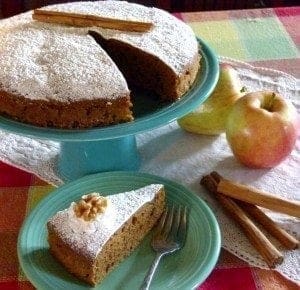 This applesauce cake recipe is a tasty winner without being overly sweet. I remember my grandmother serving applesauce cake when we would visit.
Cook Time: 2 1/2 Hours
Serves 6
Cook Time
2 hours, 30 minutes
Total Time
2 hours, 30 minutes
Notes
Top with:
Confectioners' sugar for dusting Crème fraîche for serving

Ingredients
1 1/2 cups all purpose flour
1/2 cup firmly packed light brown sugar
1 teaspoon ground cinnamon
1/2 teaspoon ground cloves
1/4 teaspoon ground nutmeg
Dash of allspice
1 teaspoon baking soda
1/2 teaspoon baking powder
1/4 teaspoon salt
1 cup unsweetened applesauce
1/4 almond milk (buttermilk, milk, etc.)
5 tablespoons unsalted butter, melted
1 large egg
1/2 cup walnuts, chopped
Instructions
Grease the bottom and sides of the roaster with butter.
In a medium bowl, mix the dry ingredients. In a small bowl mix wet ingredients. Then combine the wet ingredients with the dry ingredients and mix until fluffy. Stir in the walnuts. Spread the batter evenly in the roaster. Cover and cook for 2 1/2 hours.
Remove roster from the Sunflair®. PLace a a rack and remove lid to cool for 30 minutes before removing. Run a knife around the sides and lift out with a spatula. Dust with confectioners' sugar and add a dollop of crème fraîche.
© 2021 Copyright: Sunflair® Solar Ovens