Jump to recipe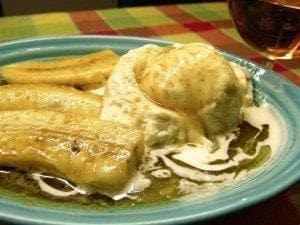 Decadence from a solar oven! This is a flameless version of Bananas Foster. Traditionally it is set on fire then served over vanilla ice cream. But don't stop there, try it with pancakes, crepes, pound cake, bread pudding … Yum!
Cook Time: 1 1/2 hours
Serves 4
Cook Time
1 hour, 30 minutes
Total Time
1 hour, 30 minutes
Ingredients
1/2 cup (115 g.) unsalted butter (cut into small pieces)
1/2 cup (115 g.) firmly packed light brown sugar
1/4 cup (118 ml.) dark rum
2 large firm but ripe bananas (cut lengthwise and in half)
vanilla ice cream
Instructions
Combine butter, sugar, and rum in pot. Place in the Sunflair® Solar Oven for 1 1/2 hour. Whisk the ingredients together. Then add the bananas and coat with sauce for 15 - 20 min.
Serve immediately over ice cream or other goodies.
© 2023 Copyright: Sunflair® Solar Ovens