Jump to recipe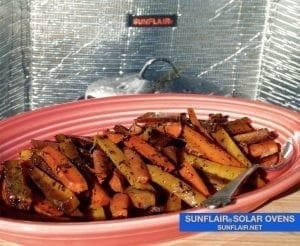 Servings: 4 
Cook time: 2 hours
This a go-to carrot side dish that seems to complement any entry. Easy for everyday, and delightful for gatherings.
Ingredients
1 pound (450 g) carrots, washed, cut 3 inches (7.5 cm) long, and then cut into sixths lengthwise
extra virgin olive oil
½ teaspoon (2.4 g) dried thyme
1 teaspoon (4.8 g) dried parsley
⅛ teaspoon (0.6 g) dried oregano
Salt and pepper to taste
Instructions
Place prepared carrots in the roaster, drizzle with olive oil. Sprinkle with all the seasonings. Toss so the carrots are evenly coated with oil.
Cover with lid, and place in the Sunflair® for 2-3 hours until tender.
Serve with your favorite entre.
© 2023 Copyright: Sunflair® Solar Ovens