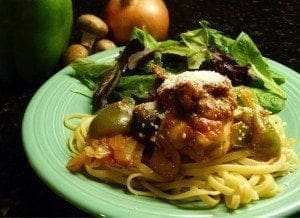 Try this chicken cacciatore recipe and be amazed. Tastes like it came straight from the Old Country.
serves 4 – 6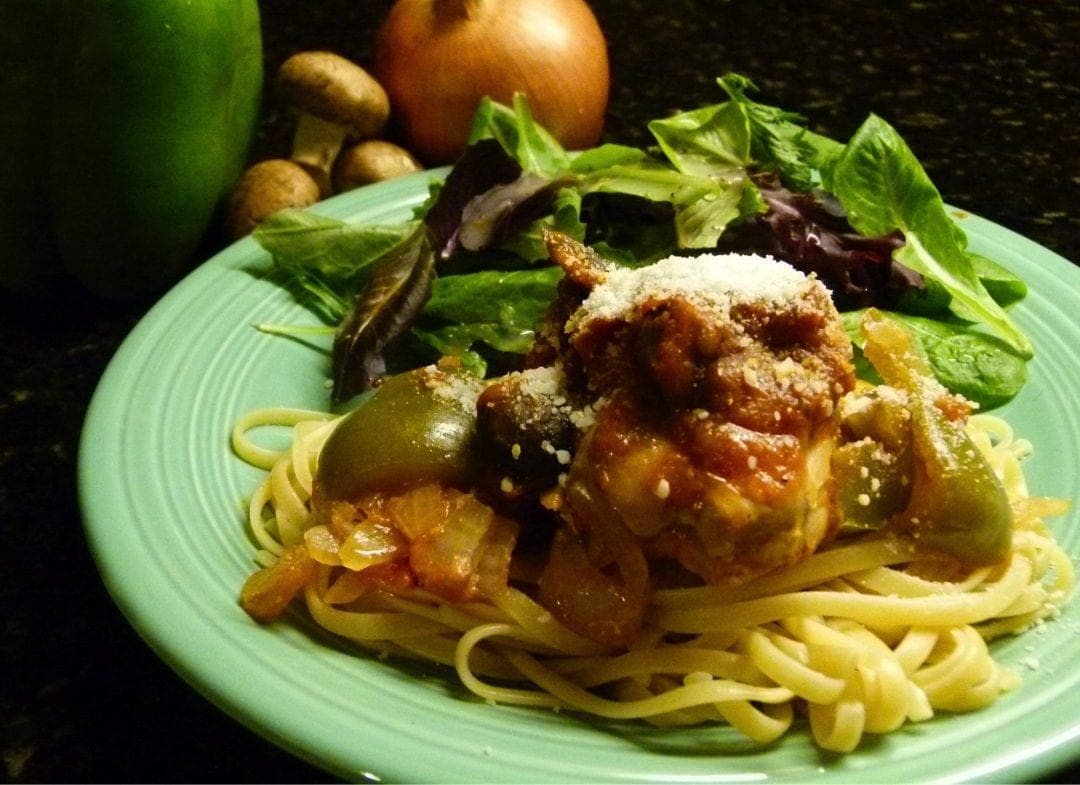 Ingredients
One 24-ounce jar (680 g.) marinara sauce, or about 3 cups (630 g.) homemade marinara sauce
1 medium yellow onion, cut into chunks
1 to 3 cloves garlic, minced
1 medium green bell pepper, seeded and cut into 1½-inch chunks
6 boneless, skinless chicken thighs and 6 chicken drumsticks
6 ounces (170 g.) fresh mushrooms, quartered
2 tablespoons (12 g.) flour, optional
2 tablespoons (30 ml.) water, optional
3 tablespoons (44 ml.) dry white wine, optional
Instructions
Layer half of the tomato sauce and all of the onion, garlic, bell pepper, and chicken in the enamelware roaster. Sprinkle mushrooms on top of the chicken and cover with the remaining tomato sauce. Optional thicker sauce, in a small bowl, whisk together flour and wine until smooth. Pour the sauce over the chicken and mushrooms. Cover and cook until the chicken is tender and cooked through, (3-4 hours). The chicken will add some of its own juices to the dish.
Serve over rice or pasta with a green salad and a nice glass of wine.
https://www.sunflair.net/chicken-cacciatore/
Copyright: Sunflair® Solar Ovens