Jump to recipe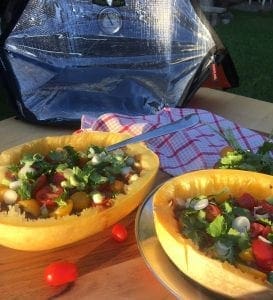 Chili Spaghetti Squash is great at home or camping. Easy clean up as the skin doubles as a bowl. We used the Sunflair Mini for this cook. You could triple the quantity in the Sunflair Deluxe Solar Oven.
Servings: 2-4
Ingredients
1 spaghetti squash, approximately 2 - 2½ lbs.
15 ounces can chili
Garnish options: Tomatoes, Scallions, Cilantro, Olives, Jalapeños, Cheddar Cheese, Sour Cream
Instructions
Place washed (not punctured) squash in the Sunflair Solar Oven for 3½ hrs, turn halfway during cooking. At 3½ hours: put canned chili in the included collapsible bowl/lid and place this in the oven next to the squash for 45 min.
At 4 hrs remove the squash and let cool for 15 min., as it will be very hot straight out of the oven.
Cut squash in half lengthwise, remove seeds, add chili, and garnish with toppings.
We used Cilantro, Green Onions, and tomatoes.
Olives, jalapeños, cheese, sour cream would complement the dish too.
© 2023 Copyright: Sunflair® Solar Ovens
?