Jump to recipe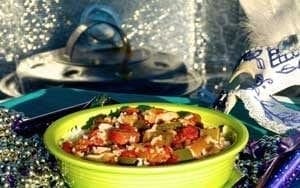 Jambalaya is an American dish that developed in the French Quarter of New Orleans. The early Spanish tried to make paella but there wasn't any saffron, so tomatoes were used instead. The French added their flair with their spices. Thus, Creole jambalaya or red jambalaya was born. The holy trinity in this Creole jambalaya recipe is onion, celery, and peppers. And the meat is chicken and andouille sausage. The use of tomatoes is why it's called red jambalaya.

Ingredients
1 large yellow onion, chopped
2 cloves garlic, minced
1 cup (225 g) thinly sliced celery
1 jalapeno pepper, seeded and chopped
14½ oz (411 g) can chicken broth
14½ oz (411 g) can diced tomatoes with juice
1½ cup (340 g) converted rice
3 oz (85 g) tomato paste
2 teaspoons (10 g) paprika
1 teaspoon (5 g) garlic powder
1 teaspoon (5 g) onion powder
½ teaspoon (2.5 g) black pepper
½ teaspoon (2.5 g) red pepper
¼ teaspoon (1.25 g) dried oregano
¼ teaspoon (1.25 g) dried thyme
8 oz (225 g) boneless, skinless chicken cut into ½ inch pieces.
8 oz (225 g) andouille sausage, sliced or raw large shrimp peeled and deveined
1 large green pepper, seeded and diced
Instructions
In the large roaster, combine chopped onion, minced garlic, chopped celery, chopped jalapeno, tomatoes, broth, tomato paste, paprika, garlic powder, onion powder, black pepper, red pepper, dried oregano, and dried thyme. Stir in chicken and sausage and rice. Cover and cook until most of the liquid is absorbed, and the chicken and sausage are cooked through, and rice tender. Cook for 3-5 hours.
Stir in green pepper and cover for the last 10 min. And if using shrimp, add the shrimp at this time too.
Serve nice and hot with fresh french bread and butter.
© 2023 Copyright: Sunflair® Solar Ovens