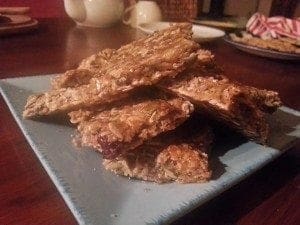 Make your own muesli bars, an easy way to enjoy a healthy, homemade snack.
Ingredients
2 cups (457 g.) flour
2 cups (457 g.) rolled oats
1 cup (229 g.) dessicated coconut (coconut powder)
2 cups (457 g.) fruit, nut and seeds mix
1 cup (229 g.) honey
2 tsp (10 g.) cinnamon
2 tsp (10 g.) vanilla extract
3 tbsp (43 g.) butter
2 eggs
Instructions
Lightly grease a baking tray.
Mix all ingredients together in a bowl.
Spread mixture over baking tray and press down firmly.
Cover with second baking tray.
Place in SUNFLAIR Solar Oven, slightly vented.
Bake until darkened in color (2-3 hrs).
Remove from oven, separate into squares and place on baking rack to cool.
© 2021 Copyright: Sunflair® Solar Ovens