Jump to recipe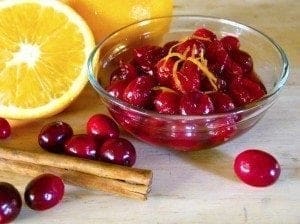 The orange and red wine combined with the cranberries in this cranberry sauce recipe is a flavor sensation. Delicious with turkey and other poultry. This is nice to make in advance and keeps in the refrigerator for a week or freeze.
Servings: 8
Ingredients
12 ounces (340 g) cranberries
1½ cups (340 g) white sugar
¾ cup (187 ml) Merlot wine
1 cinnamon stick
Zest of 1 of orange, then quarter the orange
pinch of ground cloves
Instructions
Directions
Combine all the ingredients in the roaster and stir so everything is blended and submerged. Cover and cook for 2 1/2 hours until the berries have popped.
Remove the roaster from the Sunflair®, and remove the oranges and cinnamon stick. Let cool at room temperature or refrigerate.
Serve chilled or room temperature with poultry.
© 2023 Copyright: Sunflair® Solar Ovens