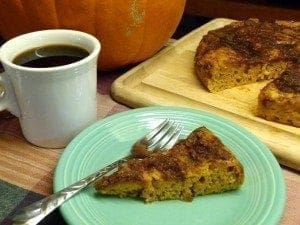 Follow this easy recipe and enjoy moist, delicious pumpkin coffee cake for a seasonal treat.
Ingredients
1 Box (21 oz or 600 grams) crumb, streusel, or coffee cake/muffin mix
1 1/4 cup (285 grams) pumpkin puree
1 teaspoon (6 grams) pumpkin spice
Instructions
Preheat Sunflair Solar Oven with full sun entering the cooking chamber.
Lightly grease pot or coat with non-stick cooking spray.
Mix together pumpkin puree and pumpkin spice.
Mix in dry cake mix.
Pour batter into pot and sprinkle topping over batter.
Place in pot with lid in Sunflair Solar Oven and cook for 1hr 15min. When a toothpick inserted in center of cake comes out clean, it's done.
© 2021 Copyright: Sunflair® Solar Ovens