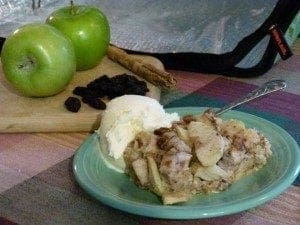 Try this delicious raisin bread pudding recipe for the holidays or anytime!
Ingredients
1 cup (229 grams) pecans, coarsely chopped
8 slices of raisin bread, crusts removed and cubed
2 Granny Smith apples, peeled cored and thinly sliced
2 cups (471 ml) half & half
3 large eggs
½ cup (118 ml) honey
¼ cup (59 ml) brandy
1 teaspoon (5 grams) ground cinnamon
½ teaspoon (2 grams) ground nutmeg
¼ cup (59 ml) unsalted butter, melted
Vanilla ice cream (optional)
Instructions
Spread pecans on baking sheet, cover with another baking sheet and cook in solar oven until golden (about 8 – 10 minutes).
While pecans are baking, in a medium-size bowl, combine the half & half, eggs, honey, brandy, cinnamon, and nutmeg and whisk to mix well.
Place bread cubes in a pot and sprinkle with toasted pecans and apples. Toss to combine.
Pour mixture from bowl over bread. Drizzle with melted butter.
Cover and cook in solar oven until apples are tender when pierced with a fork (about 2½ - 3 hours).
Remove from oven and let pudding stand for at least 15 minutes before serving with vanilla ice cream, if desired.
© 2021 Copyright: Sunflair® Solar Ovens