Jump to recipe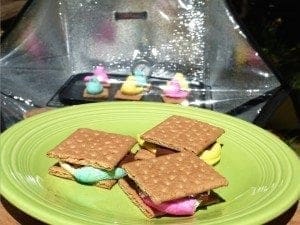 Time: 10 minutes
Saw this cute twist on s'mores using marshmallow chicks and just had to make them! However they are made, they are always a crowd favorite!
Ingredients
Marshmallows
Graham Crackers
Chocolate (flat, bar, milk chocolate)
Instructions
Preheat oven (set oven up with cooking chamber directed towards the sun)
Place one marshmallows per graham cracker on a baking tray in the Sunflair® Solar Oven until warm and gooey. Remove tray, place a wedge of chocolate on top of the marshmallow and sandwich with another graham cracker on top. Enjoy the melty goodness!!
© 2023 Copyright: Sunflair® Solar Ovens