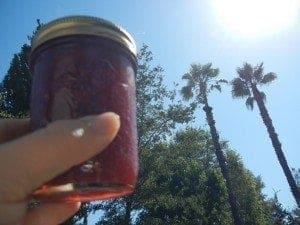 Nothing beats fresh strawberry jam! Follow this super easy recipe from SUNFLAIR Solar Ovens.
Makes 3 ½ cups
Ingredients
4 pints (2 lbs. or 1.6 kilos) fresh strawberries rinsed, drained, and dried
2 tablespoons (29 g.) lemon juice
1 ¾  – 2 ounces (50-57 g.) pectin powder
3 – 4 cups (686-914 g.) sugar
Directions
Crush the strawberries in a large bowl, leaving some chunks. Pour them into a pot and add the lemon juice and pectin. Let sit for 10 minutes before stirring in sugar.
Put pot in solar oven and cook for 5 hours.
Pour the warm jam into glass jars and let cool. The jam will keep up to two months in the refrigerator or you can freeze it in plastic storage containers for up to three months.