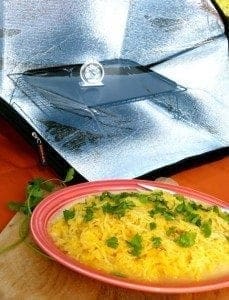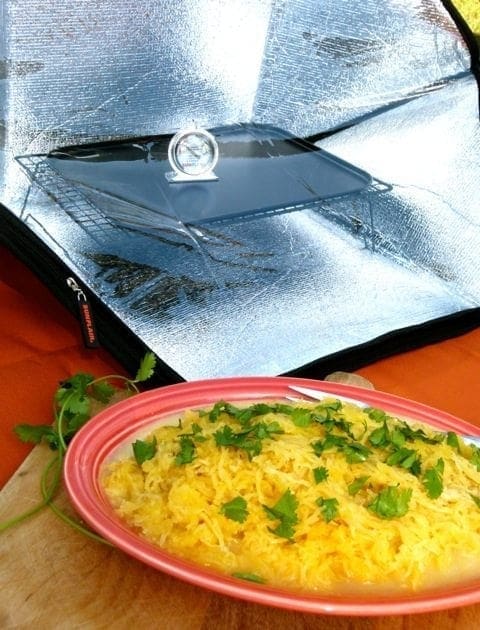 This spaghetti squash recipe is a nice fix it and leave it side dish. Only 3 ingredients!
Cook time: 3-4 hours.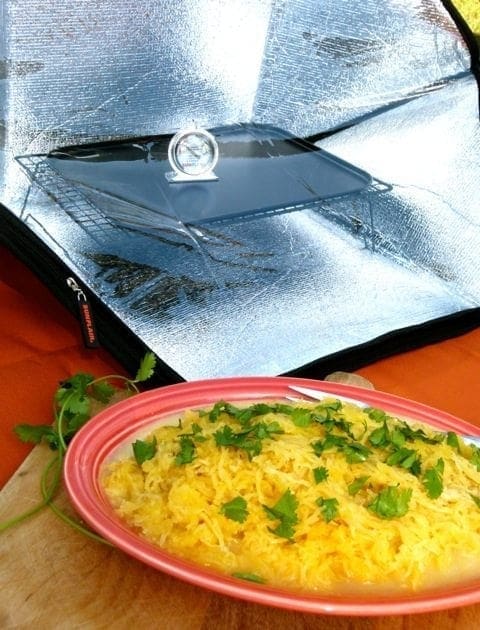 Ingredients
1 medium spaghetti squash, 3 - 4 lbs. (1 - 2 kg.)
1 can coconut milk, well shaken.
1 - 2 tablespoons (14 - 18 grams) yellow or red curry paste to your taste
1 teaspoon (5 grams) sugar (optional)
Garnish with Cilantro (optional)
Instructions
Cut spaghetti squash into quarters to fit into pot.
Scoop out the seeds. These can be save and roast in the Sunflair! They taste and smell like popcorn. See drying seeds.
Pour the coconut milk into the pot, and add your favorite curry paste.
Blend the curry paste into the coconut milk.
Place the squash flesh side down in the coconut curry mixture.
Cover and cook on low for 3-4 hours.
Remove the squash from the pot. Caution! Will be very hot! Scoop out squash with a fork onto a platter or bowl.
Mix and pour the desired amount of the coconut/curry milk over squash.
If the curry has a kick to it, a bit of sugar balances it out.
Garnish with fresh cilantro.
https://www.sunflair.net/spaghetti-squash-curry/
Copyright: Sunflair® Solar Ovens