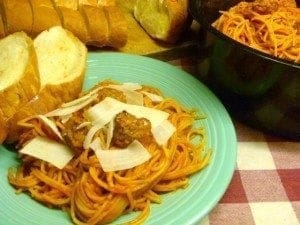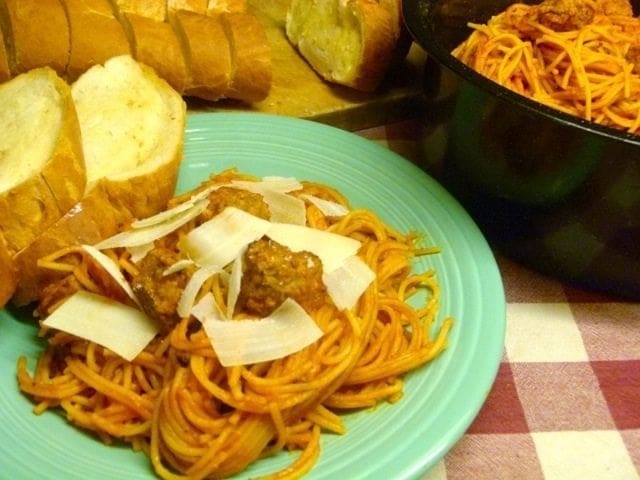 This solar oven spaghetti and meatballs recipe is a good go-to for busy days, road trips and camping. For a quick, comforting meal, place a loaf of garlic bread wrapped in foil into the Sunflair cooker during cooking. Garnish with fresh Parmesan cheese, include a salad and a glass of red wine! Delizioso!
Prep Time: 10 minutes
Cook Time: 2+ hours
Total Time: 2+ hours
Servings: 4-6
Super Easy Spaghetti and Meatballs, Semplice a Delizioso!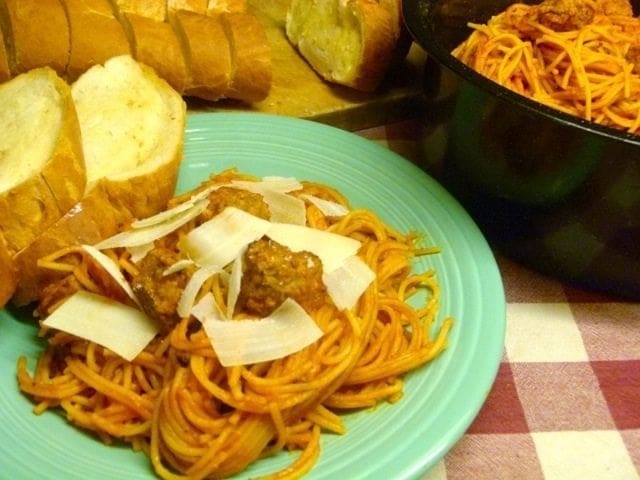 Ingredients
24 oz/680g jar spaghetti sauce
3 cups water
12 oz/340g package frozen fully cooked meatballs
1 lb/454 g spaghetti pasta, broken into pieces
Instructions
Combine sauce, water in enamel roaster, and add the fully cooked meatballs. Cover with lid and cook in the Sunflair cooker for 1.5+ hours until meatballs are hot. The longer the meatballs and sauce are combined together, the more the flavors will meld. So, cooking the sauce all day is okay too. Stir in broken pasta and make sure pasta is fully covered by the sauce. Cover and cook for additional 25 min. The pasta will be more al dente.
Or for softer pasta and lower maintenance, add and stir all the ingredients into the enamel roaster and making sure the dry pasta is covered with sauce and cover with lid. Cook in Sunflair solar oven cooker for 2+hrs.
For vegetarians, the meatballs can be eliminated. Just make sure the sauce is hot!
https://www.sunflair.net/super-easy-spaghetti-meatballs-semplice-delizioso/
Copyright: Sunflair® Solar Ovens