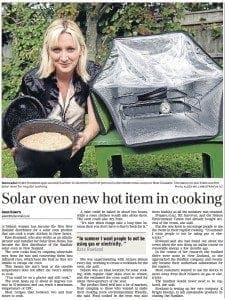 SUNFLAIR's amazing new distributor in New Zealand is Kate Rowland!
Kate was the subject of an interview by Adam Roberts of the Nelson Mail, a New Zealand newspaper, reposted here:
A Nelson woman has become the first New Zealand distributor for a solar oven product that can cook a roast chicken in three hours.
Kate Rowland, who also works as an administrator and installer for Solar Rosa Home, has become the first distributor of the Sunflair solar oven in New Zealand.
The oven cooks food by trapping ultraviolet rays from the sun and converting them into infrared rays, which heat the food as they are unable to escape the oven.
This means the sun's heat or the outside temperature does not affect the oven's ability to cook.
"You could be on a glacier and still cook."
The oven heats up to about 65 degrees Celsius in 10 minutes, and can reach a maximum temperature of 130C.
Most recipes take between two and four hours to cook.
A cake could be baked in about two hours, while a roast chicken would take about three. The oven could also dry fruit.
"It's nice when things take a long time because then you don't have to hurry back for it."
She was experimenting with recipes almost every day, working to create a cookbook for the oven, she said.
Nelson was an ideal location for solar cooking, with regular clear skies even in winter, and she estimated the oven could be used for about three-quarters of the year.
The product fitted well into a lot of markets, from camping to those who wanted to make their cooking more environmentally friendly, she said. Food cooked in the oven was also more healthy as all the moisture was retained.
Prepare.co.nz, NZ Survivor, and the Nelson Environment Centre had already bought several of the ovens, she said.
But she was keen to encourage people to use the ovens in their regular cooking. In summer I want people to not be using gas or electricity."
Rowland said she had found out about the ovens when she was doing an online course on renewable energy a few months ago.
In the course of her research she realized there were none in New Zealand, so she approached the Sunflair company and eventually became their authorized saleswoman for the country.
Most customers wanted to use the device to move away from their reliance on gas or electricity.
The Sunflair would never need to be replaced, she said.
Rowland is setting up her own company, E Bright Energy, to sell sustainable products including the Sunflair.