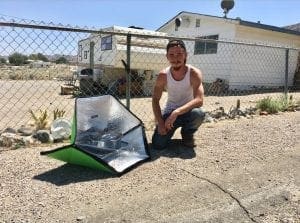 This California Earthquake recipient is grateful to Shiva Rea and others for his Sunflair® Solar Oven! After the quake they were living in the camper behind, and out of propane. Having a hot meal made a difference to get through the day while making repairs and holding down his job. Happy to report that he and his family are back in their home. The food tastes so good with no carbon taste, that they use it everyday. It keeps the cooking heat out of the house, reduces A/C use, lowers their utilities bill, and that savings goes towards home repairs.
? He said the quake was so massive that it changed the typography of the valley in which they live. Some areas are higher, other areas lower, and hills changed shape. He said he still finds driving about disorienting and not the same. Knowing people cared really made a difference.
? With your purchase, a portion of Sunflair® Solar Oven sales goes towards helping those who encounter a life speed bump. We all need a little assistance from time to time.