Jump to recipe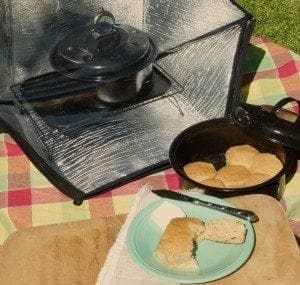 Cook time: 1 to 1.5 hrs
Nothing beats fresh biscuits out of the oven with some butter. And better yet when made with the sun.
Cook Time
1 hour, 30 minutes
Total Time
1 hour, 30 minutes
Ingredients
2 cups (457 g.) all-purpose flour
1 teaspoon (5 g.) sugar
1 tablespoon (14 g.) baking powder
1 teaspoon (5 g.) salt
7 tablespoons (100 g.) butter, cubed (or alternative)
3/4 cup (176 ml.) milk or milk alternative
Instructions
For refrigerated biscuits, place directly into the roaster and cover. Cook until golden brown. For biscuits from scratch use ingredients above.
Preheat Sunflair® Oven. Set oven up outside with cooking chamber receiving full sun.
In a large bowl, combine flour, sugar, baking powder and salt together. Cut in butter until it begins to looks like coarse meal.
Slowly stir milk into the middle of the mixture. Now, knead the dough with your fingers. Can add a little more milk if necessary. On a lightly floured surface, roll dough out to desired thickness. Cut biscuits out with a biscuit cutter or a juice glass dipped in flour. Repeat until all the dough is used.
Brush off the excess flour, and place biscuits into the un-greased roaster with lid.
Cook until golden brown.
© 2023 Copyright: Sunflair® Solar Ovens