Jump to recipe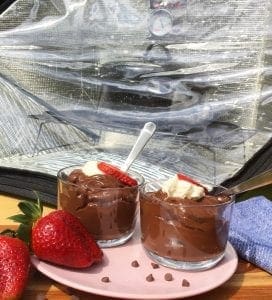 Homemade rich and creamy Chocolate Pudding is a decadent treat that surpasses those imagination puddings in little plastic cups.
☀️Cooking with the sun is perfect for chocolate as the heat radiates around the pot evenly, and never scorches.
? Quality chocolate always makes a difference in recipes.
Ingredients
6 eggs
1 quart (946 ml) heavy whipping cream
1/2 teaspoon (2.5 g) salt
11.5 oz bag (326 g) milk chocolate chips
12 oz bag (340 g) semi-sweet chocolate chips
Garnish: whipped cream, strawberries, chocolate shavings, and more.
Instructions
Mix eggs, heavy whipping cream and salt in the included roaster with a whisk to combine. Add chocolate chips and combine.
Cover and cook for 45 min. Stir and combine the chocolate, it should be melted and smooth.
Cover and cook for another 30 minutes. Then give it a nice whisk.
Cover and cook for another 1 hour to 1.5 hours until the edges start to set.
Whisk again, serve in small desert cups, and garnish with chocolate shavings, whipped cream, fruit, or other heart's desire.
© 2023 Copyright: Sunflair® Solar Ovens