Jump to recipe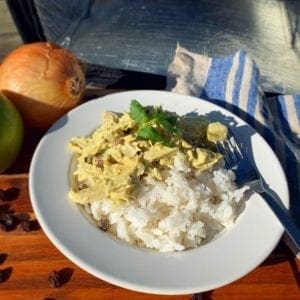 Who loves curry? Curry salad just hits the spot on a hot summer's day with the delicious spices and the snap of sweet and tartness of apple. Can be serve over rice, a bed of lettuce, made into sandwiches, lettuce, wheat, or gluten-free wraps.
We placed 3 chicken breasts in the Sunflair® roaster with a drizzle of olive oil and a few twists of freshly ground pepper, covered and cooked.
Ingredients
1/2 cup (110 g) mayonnaise
2 tbsp (30 ml) freshly squeezed lemon juice
1 tbsp (11 g) yellow curry powder
1/2 tsp (2.5 g) salt
1/4 tsp (1 g) freshly ground black pepper
3 cooked chicken breasts cut into bite-size chunks
1 Granny Smith apple, peeled, and diced
2/3 cup (76 g) chopped celery
1/2 cup (56 g) roasted cashews
1/3 cup (50 g) raisins
1/4 cup (12 g) sliced chives
Instructions
In a large bowl, combine mayonnaise, lemon juice, curry powder, salt, and pepper.
Add the cubed chicken, chopped apple, celery, cashews, raisins, and chives. Combine all ingredients to incorporate.
Refrigerate the Chicken Curry Salad for an hour to two before serving, so the flavors meld and raisins plump. ?
© 2023 Copyright: Sunflair® Solar Ovens