Jump to recipe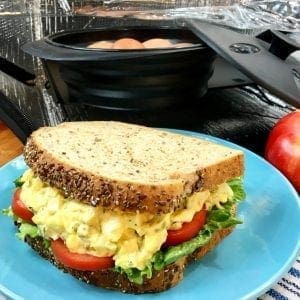 Classic Egg Salad Sandwich
This is a wonderful classic recipe that will be gobbled up. It's delicious on country white bread or a hearty rye. Eggs cook faster in a solar oven when hard baked, not using water. What is nice about hard baked eggs is they never crack. Heating water adds more mass, which adds more time.
Servings: 4
Time: 1½ hours
Ingredients
½ cup maynnaise
1 teaspoon yellow mustard
¼ cup chopped green onion
¼ teaspoon paprika
salt and pepper to taste
© 2023 Copyright: Sunflair® Solar Ovens
Place eggs in a pot and cover to hard bake. No water. Cook in Sunflair® for 1½ hours.
Then remove the pot from the oven and remove the lid to let the eggs cool for about 5 minutes.
In a bowl, incorporate mayonnaise, mustard, green onion, paprika, with salt and pepper to taste.
Peel and chop the eggs, then mix them in with the dressing.
Additional suggested toppings: Lettuce, tomato.
Make a hearty sandwich, or serve on crackers.