Jump to recipe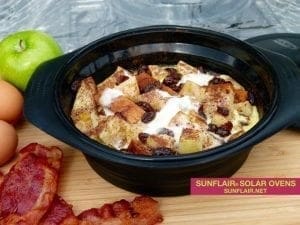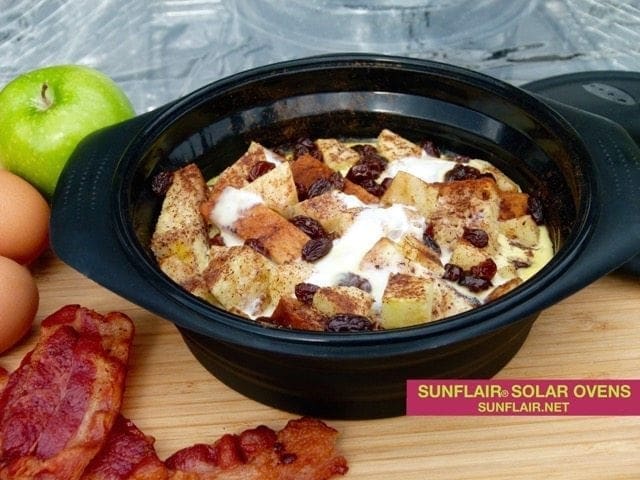 Collapsible Pot
Servings: 2-3
Cook time: 45 min.
Large Roaster (double the recipe)
Servings: 4-6
Cook time: 1.5 hours

French toast is one of those anytime comfort foods. The recipe can be followed, or just toss ingredients of your choosing in the pot. Make at home, on the road, camping, tailgating, etc. Have fun and enjoy!
Ingredients
3 eggs
¾ cup (187 ml) milk
3-4 slices bread cut in quarters
1 teaspoon (5 g) sugar
½ teaspoon (2.5 g) cinnamon
¼ cup (56 g) chopped walnuts
⅓ cup (75 g) raisins
1 green apple, cored, skinned, diced
cooking oil or butter for the roaster, not needed for the collapsible pot
maple syrup
Alternate goodie ideas: Pecans, Vanilla, Nutmeg, Blueberries, Strawberries, or Chocolate Chips.
Instructions
Grease the bottom and sides of pot. Mix eggs and milk together in a separate bowl and set aside.
Layer bread on the bottom of the pot and sprinkle with half of the cinnamon, sugar, walnuts, diced apples, and raisins. Repeat with another layer bread and goodies. Drizzle the egg and milk mixture over the bread. With the back of a spoon, lightly press the mixture to aid the bread to soak up the liquid.
Cover and cook for 45 min.
Enjoy hot with maple syrup.
© 2023 Copyright: Sunflair® Solar Ovens