Jump to recipe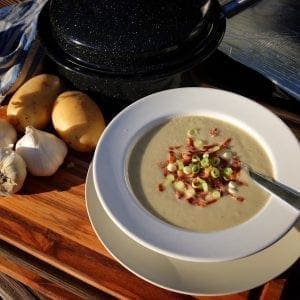 "A bowl of garlic soup a day keeps the doctor away." Okay, that may not be a saying, but garlic soup is known for its health benefits and warding off colds around the world. What seems like a ridiculous amount of garlic mellows when slow cooked. This recipe was made the the Sunflair Deluxe #solaroven
Serves 4 – 6
Ingredients
1 tablespoons (15 ml) olive oil
1 tablespoons (14g) butter
1 pound (454g) onion, finely chopped
1 cup (161g) garlic cloves, finely chopped
1 quart (946 ml) low sodium vegetable or chicken broth
1 cup (237 ml) coconut cream
2 yellow potatoes, finely peeled
1/2 teaspoon (0.4g) parsley
1/2 teaspoon (0.4g) thyme
1 bay leaf
1/4 teaspoon (1.2g) salt
1/8 teaspoon (0.6g) pepper
4 strips cooked bacon, chopped
4 scallions, chopped
Instructions
Combine olive oil, butter, onion, and garlic in roaster and cover with lid. Place in the Sunflair for 1.5 hours for the flavors to mellow.
Remove roaster from oven. It should be deliciously fragrant. Add broth, coconut cream, potatoes, parsley, thyme, bay leaf, salt, and pepper. Cook for at least another 1.5 hours until potatoes are tender. Or go do other things and not worry about time, and let slow and low meld the flavors even more.
Blend with a hand immersion blender, free standing blender, or food processor.
Ladle into bowls and garnish with bacon and scallions.
© 2023 Copyright: Sunflair® Solar Ovens