Jump to recipe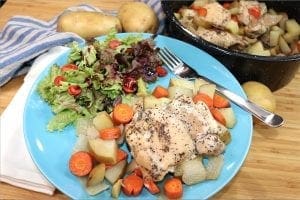 One pot meal of sunshine. The prep time on this so fast, and then set it and forget it. This dish is liberating and enables getting other tasks completed.
Ingredients
4 chicken thighs
4 large potatoes, 1/2 inch (1.25 cm) cubed
3 carrots cut in 1/2 inch (1.25 cm) pieces
1 onion, small, cut in quarters
1 head garlic cloves, whole
1/2 tsp (2.5g) salt
1/2 tsp (2.5g) black pepper, ground
2 tsp (10g) garlic powder
1/8 tsp (0.3g) paprika
2 Tbsp (29.5ml) olive oil
Instructions
Cube produce and Pat dry.
Rinse chicken and pat dry.
Add oil and spices. Combine.
Cook until potatoes are tender, about 3 hours.
© 2023 Copyright: Sunflair® Solar Ovens