Jump to recipe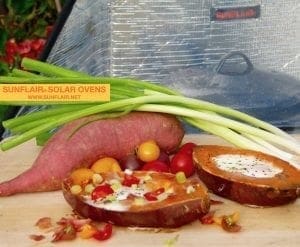 Servings: 4
Time: 2 hours
This comfort-food is easy, tasty and healthy. Great for lunch at work, car camping, and showy enough for guests. It can be enjoyed simply with the two main ingredients of just the sweet potato and egg, or garnish with purpose or with leftover odds and ends that need to be used up. For the photo: bacon, scallions, cherry tomatoes, and seasoned with pepper were used.


Ingredients
2 medium sweet potatoes
4 eggs
Garnish suggestions:
scallions, sliced
bacon, chopped
tomatoes, diced
avocado, cubed
shredded cheese
sausage, crumbled
pre-cooked shrimp
ketchup
hot sauce
chives
salsa
season with salt or pepper
You get the idea …
Instructions
Wash the sweet potatoes and slice in half length wise.
Place in roaster with the sliced side up and cover with the lid.
Cook until tender for approximately 2 hours depending on the size of the sweet potatoes.
When tender when poked with a fork, scoop out enough sweet potatoes for the egg to fit.
Crack egg inside the hole made in the sweet potato, cover, and return to the oven. Cook for approximately 10 minutes until the egg is cooked to your desire.
Garnish with passion!
© 2023 Copyright: Sunflair® Solar Ovens