Jump to recipe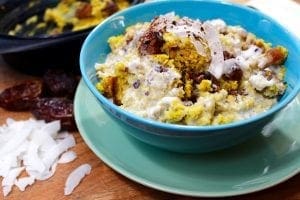 Turmeric, Ginger, Cinnamon, & Cardamom Oatmeal
Delicious, surprisingly creamy, and infused with loads of health benefits. My family was hesitatant that this combination would taste "healthy," but it just tastes yummy and comforting on a cold day.
Ginger has been proven to be a good anti-flammatory, helps with osteoarthritis, improve the heart, lower blood sugars, indigestion, nausea, fights infections to list a few. 

Turmeric is used for the brain, treating cancer, delay aging, chronic disease, and more.

Cardamom helps with: the common cold, respiratory infections, bronchitis, digestion problems, evening out intestinal issues, liver and gallbladder, helping appetite, sore mouth and throat, urinary problems, epilepsy, headaches, and high blood pressure.

Ceylon

Cinnamon (true cinnamon) is loaded with unit antioxidants, has nation-flamatory properties, cut risk of heart disease, aid with insulin levels, help with a healthy brain, and more.
Ingredients
1¾ cups water (see first sentence in directions)
1 cup rolled oats (see first sentence in directions)
½ cup chopped pitted dates or raisins
½ teaspoon ground ginger
½ teaspoon tumeric powder
½ teaspoon ground cinnamon
¼ teaspoon ground cardamom
½ teaspoon coconut oil
a pinch of Himalayan salt
coconut flakes
Instructions
Follow the water-to-oats ration on package and reduce by ¼. Add all the ingredients in the pot, mix together, then cover. Place in Sunflair® solar oven and cook for approximately 1 hour. Let cook for longer if the volume of the recipe has increased.
© 2023 Copyright: Sunflair® Solar Ovens