Jump to recipe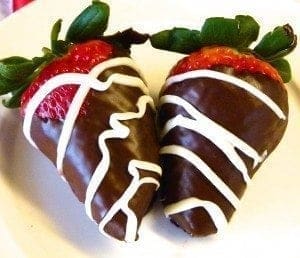 Melt time: 5-10 minutes
Simple decadence! Melting chocolate in a solar oven is wonderful as it melts evenly.
Notes
Also need: wax paper tray 1 plastic sandwich bag scissors

Ingredients
desired amount of strawberries, washed and dried
semi sweet chocolate chips
white chocolate chips
Instructions
Add desired amount of semi-sweet chocolate chips in one pot, and the white chocolate chips in another pot. Cover both pots and place in the Sunflair® Oven for about 5-10 minutes.Stir chocolate once melted. Grab the strawberries by the green tops and roll the strawberries in the semi-sweet chocolate and place on a tray with wax paper to set.Roll the top of the plastic bag down a bit to make it easier to fill one corner of the bag with the white chocolate. Twist the top of the bag and make a small snip in the corner with the chocolate. Squeeze in a back and forth motion across the strawberries.
Enjoy immediately or refrigerate for later.
© 2023 Copyright: Sunflair® Solar Ovens