Jump to recipe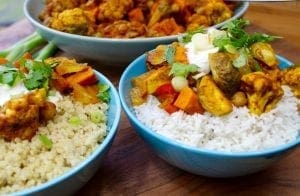 Vegetable Chickpea Curry
Servings: 6 – 10
Very easy vegan Chickpea Curry is a good one to make that serves many people. Nice for a backyard gathering, or comfort food on a cold day. Also a good one to package for lunches for work. It is delicious eaten by it's self or served over rice, or quinoa for low carbohydrates. Chickpeas are packed with nutrients, a good source of plant base protein, weight management, blood sugar control. And lets not forget all the goodness of all the other veggies.
Ingredients
15 oz. can tomato sauce, low sodium
½ cup light coconut milk
1 tbsp cumin
1 tbsp curry powder
1 tbsp turmeric
½ tsp cayenne pepper (optional)
4 cups cauliflower florets
3 cups sweet potato, peeled and diced
1 medium onion, diced
15 oz. can chickpeas, drained
1 red pepper, diced
2 cups brussel sprouts, quartered
© 2023 Copyright: Sunflair® Solar Ovens
Combine tomato sauce, coconut milk, cumin, curry powder, turmeric, cayenne, cauliflower, sweet potato, onion, chickpeas, red pepper, and brussels sprouts in the roaster. Cover with lid and place in Sunflair®. Cook for 4 hours until the sweet potato are tender. Serve as is, or over rice, or quinoa.
Additional suggested garnishes: plain yogurt, cilantro, scallions.