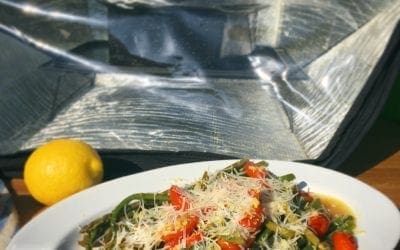 We may not be able to be under the sun in Tuscany, but we can enjoy the flavors under the same sun. Simple and fresh always equals delectable.
Ingredients
1-1/2 lbs (680 g) fresh asparagus, trimmed
1-1/2 cups (241 g) grape tomatoes, halved
3 tablespoons (24 g) pine nuts
3 tablespoons (44 ml) olive oil
2 garlic cloves, minced
1 tablespoon (15 ml) lemon juice
1/3 cup (59 g) grated Parmesan cheese
1 teaspoon (3 g) lemon zest
Instructions
Place the asparagus, tomatoes, and pine nuts in roaster.
Mix olive oil, lemon juice, and garlic, and drizzle over asparagus.
Cover & cook 20 - 30 minutes until asparagus is just tender.
Plate and sprinkle on zest of lemon and cheese.
© 2023 Copyright: Sunflair® Solar Ovens
read more